Pool Installation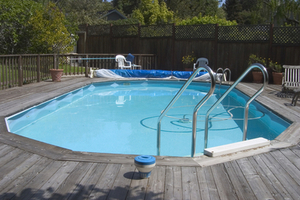 Tom Dunne founded Full Metal Shovel, Inc. in April of 2001, but his above ground pool installation experience dates back to 1997. Since its inception, Full Metal Shovel has built a solid reputation in the Tampa,Lakeland, and Orlando areas. We have a long-standing relationship with Rec Warehouse of Lakeland, and for the past decade we have installed the majority of their customers' pools. In the spring and summer months, we have multiple crews working six days a week in order to fulfill all contracts. We believe we stay busy as a result of the quality of our work. We utilize a battle-tested construction process that is more intensive than most other above ground pool installers could imagine. This is because we:
Remove sod and level the earth beneath your pool with a skid-steer tractor.
Level the concrete blocks on which your pool will sit with a survey stick and transit.
Rake and roll the layer of sand on the pool's bottom to ensure it is completely flat.
Spread all wrinkles from the bottom of your pool's vinyl liner.
Build a pad for pump and filter assembly with patio stones supplied by the customer.
Seal all filter fittings and skimmer-ware with silicone sealant.
If you have purchased your pool and are ready to schedule an install date, please review our Checklist. Remember that you'll need to read and sign the Full Metal Shovel installation agreement before work can begin.
If your pool is installed and you are looking for a quick reference guide, read our Start-Up Guide.